Sale!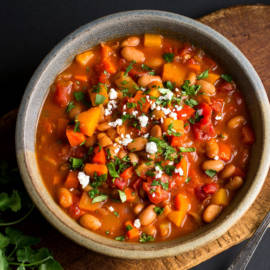 Veggie Beans Chili
A hearty meatless comfort food that carnivores will enjoy.
Calories
350
Proteins
9
Fats
3
Carbohydrates
33
This warming vegetarian chilli is a low-fat, healthy option that packs in the beans blend, traditional chili spices and some smoked paprika for an extra-savory note. Slow cooked to perfection.
Ingredients:
Beans blend, tomato paste, vegetables broth, salt, smoked paprika, fresh herbs, garlic, Onion and Garlic bread.
Ingredients:
Beans blend
tomato paste
vegetables broth
salt
smoked paprika
fresh herbs
garlic
onion
garlic bread